Characteristics of Modern Fonts You Need To Know. If you think modern fonts are those fonts created in early 2000s then you are mistaken. It is such a misconception to think that modern fonts are all new. For your information, the first modern fonts were created in 18th century. Therefore, modern fonts are not always associated to new or trendy  fonts. Modern fonts have characteristics of sharp and stylish look. Not to mention that modern typefaces correspond with any advance printmaking technology, making it suitable to for any printing purpose in this digital era.
Another Name For The Modern Typeface Is Didone.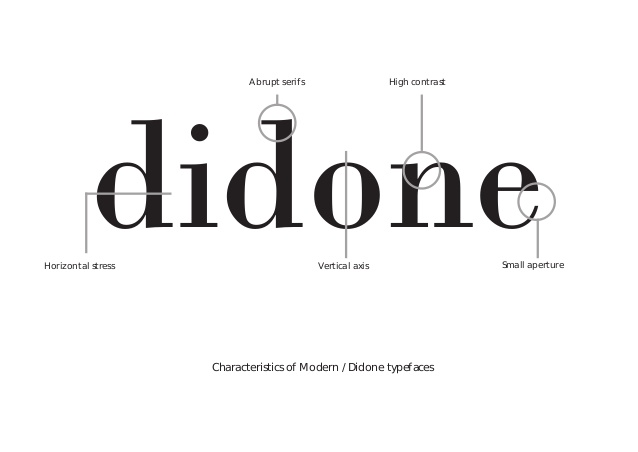 The very first modern font was created in 1784 by a French printer, Firmin Didot. He was a respectable printer shop owner at that time that there have been various fonts were made as a tribute or to pay respect to the Didot family. Another name of modern typeface is Didone. In 18th century, there had been discussion about changes in how typeface was created in order to make improvement to the paper quality as well as advance printing method. Thus, various modern typefaces were born.
Recognize Modern Fonts.


Modern fonts are easy to recognized. You can see the characteristics of modern fonts from their thin, long horizontal serifs. They also have clear-cut and thick/thin transition to the strokes, making them look more interesting and intriguing to say the least. The stress in modern fonts are usually vertical. You cannot see any slant on the letters with modern fonts. Modern fonts have dramatic effects due to the thin and thick strokes play. The vertical strokes make the letter with modern fonts look neat and clean-cut. Meanwhile, the serifs are characterized in flat, thin, horizontal details, especially on lower cases.
Modern fonts tend to look clean and neat. Some people even dare say it to have cold vibe. Modern fonts also look elegant and business-y. at large sizes, the fonts can look really eye-catching. However, modern fonts are not that suitable for a large body text both on screen or print. When you printing material made from modern fonts, the letters will be less readable due to the thin/thick strokes. The thick strokes will look prominent and swallow up the thin strokes which looks as if they disappearing. Modern fonts are best for sub-headings or headings.
Modern Fonts Can Be Found On Your Computer.
There are Didot, Times Bold, Onyx, etc. You can also download other modern fonts for free such as Bedini, Rundfunk, Dubiel, Bodoni, Latin Modern Roman, and many more. Modern fonts are also often used for commercial purpose such in advertisement. The elegant and neat look make it more appealing to the eyes of the audience especially when they are presented st large text when the thin and thick strokes are more visible to notice.
Other popular modern fonts often used for various purpose include Avenir with geometric sans-serif, Futura with highly influential sans-serifs, and Helvetica with versatile style. Between these three modern fonts, Helvetica can be considered as the most popular due to its versatility. It is often used for different purpose such as website copy, corporate logo, signage, and many more.